Back in February I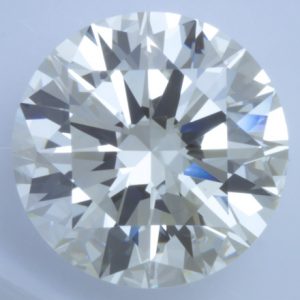 did a posting on a diamond that had a fair cut grade, it was not a very attractive diamond.  Of course we sent it off to the diamond cutter to bring it to life.  Our estimate was the diamond would need to come down to 1.17ct in order to greatly improve its looks, at least that was our estimate based on our diamond recut chart.
The diamond cutter did what he needed to do and once done it was back to the GIA to see what they thought of it.  Great news for us the stone's finished weight only dropped down to 1.34ct.  The good news continues as cut grade jumped up three cut grades to excellent.  As a bonus some inclusions were removed from the diamond during the recutting and the GIA increased the clarity grade from VS2 to VS1.
The diamond now is very brilliant and a great piece of art, certainly this stone will grace the finger of a truly beautiful girl at some point.
We will do another recutting ride along shortly.  We had in our inventory a very ugly 3.13ct cushion cut diamond, we did a posting about clarity enhancing using the stone.  After enhancement it was still ugly, so we sent it off to the cutter as well and are expecting it back shortly.   I suspect the transformation of that stone will be even more dramatic than this one.