We got an email from a reader and thought it would be beneficial to answer it here for those who may have similar questions.
I am currently working in sales for a jewelery store in Canada. The longer I work here and learn about jewelery, the more interested I became in this industry and in gems in general. I am looking to expand my horizon in terms of possible careers in the jewelery business and became interested in the GIA graduate gemologist program.  Do you have some valuable insight into this program and its usefulness after completing.
What are you getting  into?
Before starting with the GIA I did some research into what type of jobs people with a G.G. designation get and the salary.  I was not impressed to say the least as I was making much more money in another field.  I still had the desire to learn about diamonds so I signed up for the diamond program.
The diamond course was very easy for me to complete since I had a genuine interest, I soaked up the material like a sponge.
The 2nd part of your G.G. deals with colored stones and other materials.  With much less interest in the course material it was a not so easy to work through.  At the end there is also a killer exam for gem identification.  The exam is something like 5 – 6 hours long and the passing grade is 100%, anything less than that and you don't make the grade 🙁
Whats next?
Once you have your G.G. are you done?  Just sit back and bring in the dollars?  Probably not.
If you intend to work in sales, the G.G. designation will certainly demonstrate to potential customers that you know what you are doing.  Most G.G.'s tend to be higher up in the food chain due to the extra training and experience.  The bottom line however is how are you sales?  Getting your G.G. will not give you sales.  If you are born to sell you  don't need a G.G. course – you an sell ice to an Eskimo anyway right?
If you intend to be an appraiser you are going to need practical work experience, combined with specific appraisal classes.  Being a G.G. does not mean you are an appraiser.   Most appraisers (at least the good ones) are going to have specific training to be an appraiser, you might want to check with the National Association of Jewelry Appraisers.  While you are there you can ask them about one of the jewelry industries biggest scams – highly inflated appraisal values.
I've seen some people with a G.G. work as diamond buyers, diamond sorters and even diamond mine operators!
Dam that is expensive!
The G.G. course is a big decision, because it is expensive!  Currently doing the program at the Carlsbad campus (world headquarters) would cost you about $21,000 for the program plus you have to find somewhere to live around the school for the 6 month duration.  You are going to walk away with a much lighter pocketbook for sure.
If the cost has you down you can consider their distance education version.  That is going to set you back about $6,500 for the class material.  The benefit is you can do it while living in your own home and even working full time if you do the classes at night and on weekends.  There are still a few more hidden costs involved with the distance education version of the program.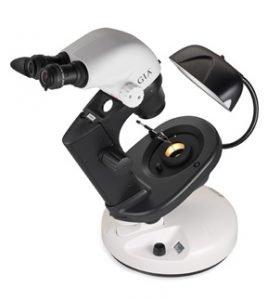 1) You must take some hands on classes, which for most people is going to mean a couple weeks of trips to an actual GIA campus or if you are lucky a class will be offered near your home.
2) You NEED equipment.  They provide you with the class material but you need tools like a loop, polariscope, dichroscope, refractometer etc.  Possibly the most crucial piece of equipment is a quality microscope.  The GIA store sells a student kit which will set you back another $2,500. If you go for a better microscope the costs can be quite a few thousand more.  You can also consider eBay for used equipment or maybe you know someone who is a G.G. who will let you use their equipment.
For all the details about the costs of the G.G. program you can check with the GIA Graduate Gemologist Program website.
Was the GIA program worth it?
One of the biggest factors for many considering taking some gemology class is the cost.  Is it worth it, would I personally do it again?
Personally one of the biggest advantages of being a G.G. is credibility.  To people outside the jewelry industry – they have no idea what a Graduate Gemologist is.  However, if you walk into a jewelry store, job interview, industry event or trade show and someone sees that you are a G.G. you are instantly treated differently – because they know that you are serious and know what you are doing.  Many employers are looking to hire staff who have their G.G. already so that opens new doors otherwise not available to you.
When you connect with people within the industry you will often come across other G.G.'s and you instantly have a connection by the common training.
Will you get your investment back after spending all that cash with the GIA?  If you plan to work in the industry, you are probably going to get the investment back – many times over.
I have bought and sold diamonds that have netted many thousands of dollars on a single transaction.  If you don't have the training you will never be able to spot potential values and pitfalls.
If someone presents you with a diamond that they say is H color and SI2 clarity and you opinion is that the diamond may be an SI1 clarity you have an opportunity to make some extra on the transaction – something you can't do if you are not a skilled diamond grader.
If you don't have the skills that you can learn at the GIA and someone presents you with a diamond they say is an H color and SI2 clarity but in reality it is K color and I2 clarity – if you buy you are going to suffer a major loss.
If you like diamonds & gems, are currently, or considering to work in the industry – take some classes with the GIA it is time and money well spent.