On many diamond reports you will see a clarity characteristic of natural, or indented natural.  A natural is part of the rough diamond skin, where it was not polished.  Often they are confused as chips or damage to the diamond but they do look different than a chip.  See this post for photos of rough diamonds.
Normally they are along the girdle of the diamond.  You will often find a diamond with a couple of naturals on opposite sides of the diamond, it is a sign that the cutter took the minimum amount of size off the diamond.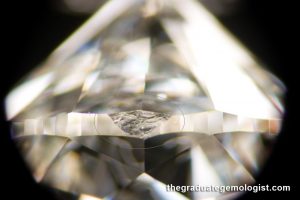 Here is a trigon, on a diamond facet – but not along the girdle edge.  This is a much more rare type of natural, trigons do form on a lot of diamonds but they are not usually left on a polished stone.