I often like to window shop at jewelry stores, just because I like the bling.  I don't actually like going into jewelry stores, I feel very out of place and hate how they hover over you.  Or maybe I just look like trouble, so they stick close 😉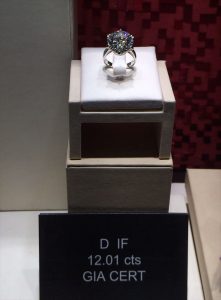 Anyway, today I was walking in Central (Hong Kong) and spotted this little guy.  A 12.01ct D Internally Flawless diamond, darn no price listed.   I snapped this photo with my phone and sent it to gemologist friend and went on with my day.
Then I thought I am going to go back there and ask how much it is.  When I was leaving Central I stopped into the shop, they were very friendly and answered all my questions about the diamond.  I got the full specs, including the GIA report details (report #15782646).
Here are the specs:
Carat: 12.01ct
Measurements: 14.67 – 14.71 x 9.15
Color: D
Clarity: Internally Flawless (there is one grade higher than this, which is flawless)
Cut: Excellent
Symmetry: Excellent
Polish: Excellent
Their asking price is 30,208,700 Hong Kong Dollars, which is about 3.8 million USD.  If you are interested the shop is Chow Sang Sang @ 37 Queen's Road, Central, Hong Kong.
Obviously an incredible stone, but I was surprised the GIA report is from 2008.  If I was dropping 3.8 million on a diamond I would want a current report.  Odds are very good this diamond has been 'previously enjoyed' and if it has suffered any damage at all since it was graded in 2008 then it would no longer hold the IF grade.
So if you stop in to buy it, make sure the purchase is contingent on the report being updated by the GIA and that it still holds the IF grade.